PAY NOW THROUGH PAYPAL!
JBL PRODUCTIONS
RECORDINGS ON THE ORGANHOUSE

BY
JOHN LEDWON
Click here for Order Form if not using PayPal




NOW AVAILABLE!

MAGIC!

The Music of the Mouse

click on picture for a larger image
When You Wish Upon A Star
Friend Like Me
A Whole New World
Once Upon A Dream
One Song
Hi Ho, Hi Ho
Someday My Prince Will Come
Whistle While You Work
Pocahontas
Bibbidi Bobbidi Boo
Lavender Blue
Zip-A-Dee-Doo-Dah
Circle of Life
Yo Ho, A Pirate's Life For Me
Under The Sea
A Whale of a Tale
Beauty and the Beast
It's a Small world
Supercalifragilisticexpialldocious
Chim Chim Cheree
Woody's Round-Up
Beyond the Sea
When She Loves Me
If I didn't Have You
When She Loves Me
Cruella De Vil
This is Halloween
Sally's Song
What's This
Main Street Electrical Parade
Mickey Mouse March



"CURTAIN UP"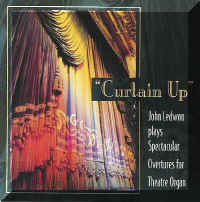 click on picture for a larger image
TRANSCRIPTIONS OF:
POET AND PEASANT OVERTURE
ORPHEUS IN THE UNDERWORLD OVERTURE
NIGHT ON BALD MOUNTAIN
IN A PERSIAN MARKET
WILLIAM TELL OVERTURE
MORNING, NOON and NIGHT in VIENNA OVERTURE
BEAUTIFUL GALATHEA OVERTURE



WURLITZER ON STAGE AND SCREEN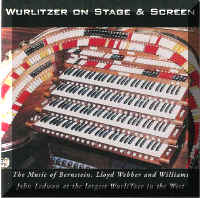 click on picture for a larger image
The music of Andrew Lloyd Webber,
Leonard Bernstein and John Williams
One of the only theatre organ CD's that features music exclusively from the latter part of the twentieth century

Includes music from:
Phantom of the Opera
Andrew Lloyd Weber Selections:
Jesus Christ Superstar, Starlight Express,
Joseph and the Amazing Technicolor Dreamcoat,
Evita, Cats



West Side Story

John Williams Medley

Music from Star Wars, E.T, Superman, Raiders of the Lost Ark and more!

This CD totals 37 selections!

Listen to assorted previews of this Album!



HOORAY FOR HOLLYWOOD
...And BROADWAY TOO!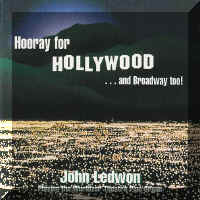 click on picture for a larger image
Featuring:
Hooray for Hollywood
Love Changes Everything from "Aspects of Love"
Napoleon's Last Charge
Selections from "Stop the World, I Want to Get Off"
Papa- Can You Heard Me? from "Yentl"
On the Robert E. Lee from "The Jazz Singer"
Hello Again from "The Jazz Singer"
Selections from "Kismet"
Serenade from "The Student Prince"
Master of the House from "Les Miserables"
I Could Have Danced All Night from "My Fair Lady"

Listen to a Preview of this Album!
---



SOUNDS OF LOVE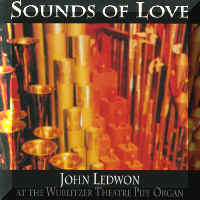 click on picture for a larger image
A collection of twelve popular love songs including:
Love Is A Many-Splendored Thing
Endless Love
A Time For Us
Always And Forever
My Cup Runneth Over
Through The Eyes Of Love
We've Only Just Begun
Love Story
The Twelfth of Never
Lady
For Once In My Life
The Hawaiian Wedding Song
A recording of twelve of the most popular wedding selections as requested during
Mr. Ledwon's many years as a wedding chapel organist.
---



BEYOND THE SUNSET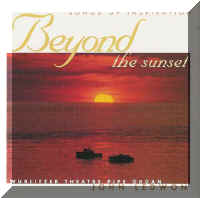 click on picture for a larger image
"Most of the music on this CD can be classified as popular hymns or Gospel hymns. Also included are a couple of popular Christian music selections from the 60's and 70's that I find particularly inspiring. Having played for a non-denominational church for many years, I have tried to present these selections in the same manner I might have used them in a church service. Some are presented in a manner that would be acceptable for a prelude, communion or other introspective moments of worships while several are treated in the more flamboyant style of the theatre organ. Still others are treated in a light hearted manner, but then, worship needs to occasionally take a break from always taking itself too seriously."
Songs:
I Just Feel Something Good Is About To Happen
He
The Old Rugged Cross
Suddenly There's A Valley
When The Roll is Called Up Yonder
How Big is God
Great Is Thy Faithfulness
My Tribute
In the Garden
Amazing Grace
Ave Maria
Because He Lives
Beyond the Sunset
He Touched Me
How Great Thou Art
Jesus is Coming Again
Blessed Assurance
This Ole House
The Lord's Prayer
Listen to a Preview of this Album!

To learn more about John click on the picture

Order your copies of John Ledwon's CD's by printing the

order form and mailing it with your check or money order to the address on the order form