Biography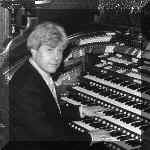 John Ledwon, a native Californian, has been playing the organ since he was twelve years old. His parents purchased him a three manual (keyboards) Wurlitzer when he was fifteen and this sparked a life long interest in the theatre pipe organ. John has toured the United States, Australia and Europe on several occasions as a concert artist and at one time had his own weekly radio show where he played the 4 manual 61 rank Robert Morton Theatre/Concert organ in the old Elks Temple in Los Angeles. After a 15 year hiatus from the concert circuit to pursue his career in education and to serve both as a director and national president of the American Theatre Organ Society, John has now returning to the concert and recording field.
In the past several years he has released eight recordings from his personally designed 4 manual 52 rank Wurlitzer theatre organ installed in his Agoura, California home.
Three of these recordings are a set of cassettes containing inspirational music, the fourth, a CD entitled Wurlitzer on Stage and Screen and consists of music by Andrew Lloyd-Webber, John Williams and Leonard Bernstein and the fifth recording, also a CD, entitled "Sounds of Love. This CD includes the most requested love songs in John's 30 year tenure as principle organist at a popular Southern California Wedding Chapel. He figures he has played over 20,000 weddings to date, having started working there when he was 14. His sixth recording features a musical potpourri of contemporary to turn of the century music. The seventh recording includes 19 songs from the inspirational cassette recordings re-recorded and re-mastered into the CD, "Beyond The Sunset". On his eighth recording John has used his orchestrally designed theatre organ to reproduce the sounds of a large symphony orchestra. Selections on this 73 minute CD include orchestral transcriptions of such well know orchestral works as The William Tell Overture, Night On Bald Mountain, In A Persian Market and The Poet And Peasant Overture. His latest recording, MAGIC! The Music of the Mouse, includes many of the Disney selections that John uses in his position as staff organist at the EL Capitan theatre in Hollywood, California.
Mr. Ledwon has completed two concert tours of New Zealand and Australia and has performed at many venues in England and the United States. He continues to record on his own 4/52 instrument John is also on the staff at Disney's El Capitan Theatre in Hollywood where he plays the former San Francisco Fox 4/37 Wurlitzer. While he plays music from all periods, he favors music that has been composed in the past 30 years.