Faventia
Street Piano
Click on a picture for a larger image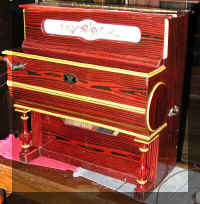 The Faventia is a miniature of the well known Hurdy Gurdy which was seen and enjoyed on the streets of the larger cities all over the world before and after the turn of the last century. The original type was the size of an upright piano and operated with a crank mechanism, mounted on a cart, drawn through the streets, a joy to young and old, and still remembered by many. About 1950 a well known Spanish piano manufacturer, Vicente Llinares, Barcelona, created its miniature counterpart consisting of a beautifully made small mechanical piano for enjoyment in homes and parties. The Faventia Piano is 23" high,22" wide and about 12" deep. This is a front view of the piano, which has 32 notes plus a woodblock and triangle. It also has an electric drive.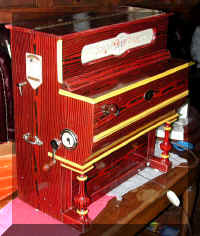 Side view showing tune selector, tune indicator, tune list and speed control for the electric drive.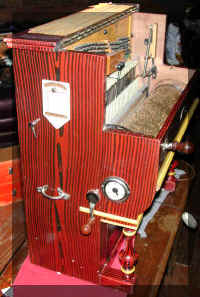 Close-up of side showing controls. barrel is visible below hammers.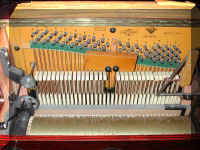 View of the hammers, wood block, triangle and barrel. Also visible is chain drive and gearing to electric motor.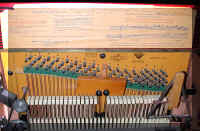 Picture with the top partially open to show instructions for tuning and changing rolls.
Back to Non-coin operated page